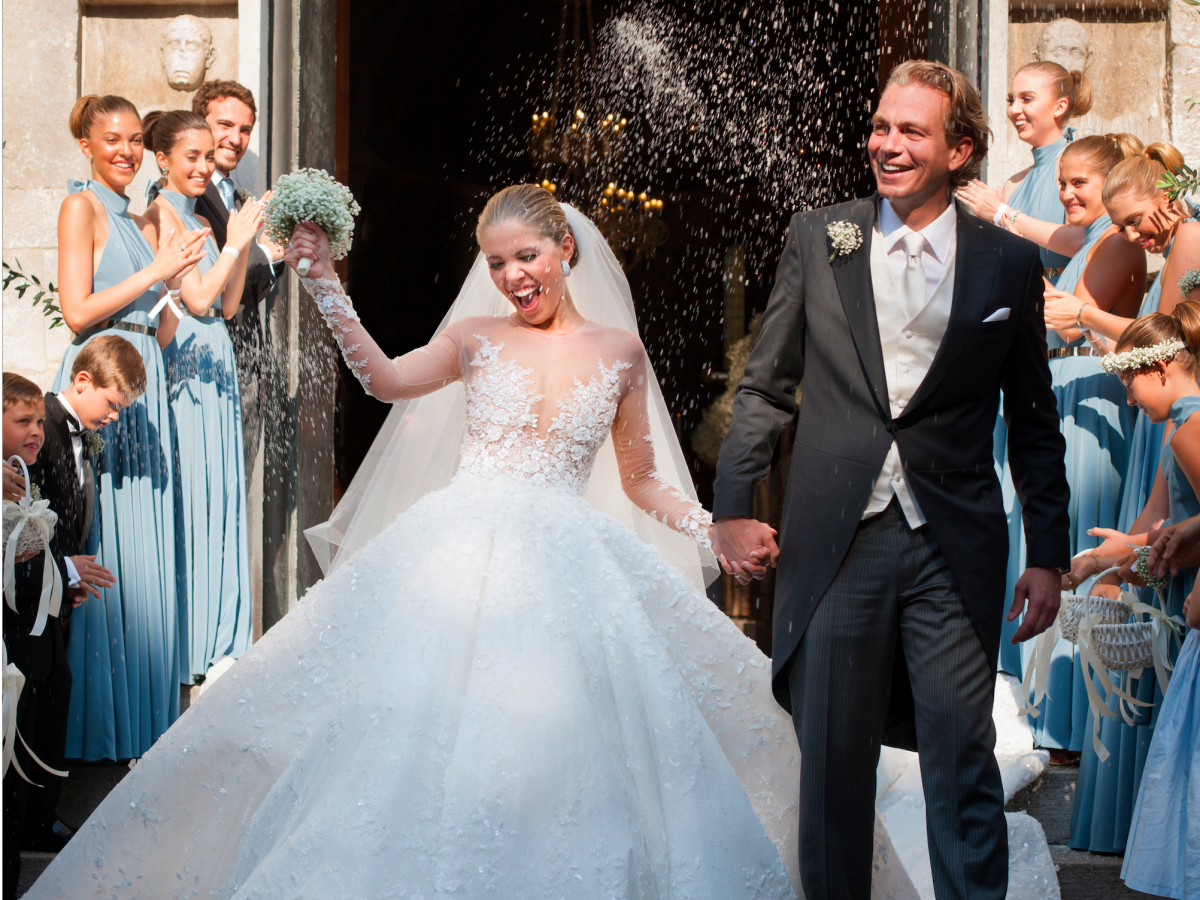 Everything You Need to Know about Swarovski Wedding
Glitz, glamour and a whole lot of sparkles, that's exactly how we'd like to sum up the most happening summer wedding for the year 2018. And trust us when we say, it was a fashionable event from every angle as renowned personalities and celebrities embraced the occasion with full fervour and festivity.
At Perfection Bridal, we're all about intricately handcrafted wedding and evening dresses and that's exactly why we had all eyes on the Swarovski heiress's big day. From who wore what to who made it on the best dressed list, we've captured the biggest wedding event that was the talk of the town for more reasons than one. Let's take a closer look at what we'd like to call a dream Italian wedding.
The Welcome Dinner: Moments Worth Reminiscing
Planned and executed to sheer perfection, the three day wedding event began at the five star hotel Falisia in Portopiccolo, Italy as the hosts welcomed guests to a fabulous red and white themed welcome dinner. Guests were treated to gourmet pasta as they embraced the Italian "Pasta and Love" theme in all its glory.
The stunning 23 year old bride Victoria Swarovski was rocking a couture red crystal dress from renowned Dubai designer to the stars Michael Cinco. The gown featured a stunning high low hem with hundreds of red crystals beaming in all directions.
The Wedding Day: a True Fairytale in Its Entirety
The Cathedral at San Giusto played host to the lavish Swarovski empire heiress's wedding to property mogul Werner Murz in Trieste. Against a magical crystal filled setting on the venue's inside, the bride appeared glittering with beauty as she walked down the aisle in a flowy ivory Michael Cinco embellished gown. Worth $1 million and comprising of 500,000 Swarovski crystals, the dress featured an 8m long veil and train and was paired with Jimmy Choo heels. Her bouquet was simple and elegant and white, complementing her attire seamlessly.
The bridesmaids donned high necked, cinched at the waistline purple gowns and looked every bit stunning and chic in their appeal. Similar gowns can be found at Perfection Bridal for those who wish to shine a little brighter amongst a crowd full of people.
The guest list included the likes of real estate giant Rene Benko, industrial tycoon Peter Konig, celebrity host Sylvie Meis, celebrity Sarah Brandtner and businessman Ahmed Ashmawi, alongside other Swarovski family members. Loved ones cheered as the married couple emerged outside of the church.
The wedding party carried out throughout the night where guests headed to Maxi's restaurant, overlooking the sea. Victoria Swarovski changed into a strapless, plunging neckline, ivory dress and appeared ravishing. The couple and guests sat for an 8 p.m. dinner and danced the night away, enjoying a splendid firework display and luxurious five tier cake cutting ceremony in between. The ambience was spectacular and included crystals and herb trees shaped like hearts, where guests enjoyed taking pictures.
Farewell Brunch: the Perfect End to a Dream Wedding
Held at the beach club of Portopiccolo, the extravagant wedding ended with a farewell brunch where guest's exchanged warm wishes for the couple's lifetime together as one. The breathtaking scenery complemented the delectable cuisine offerings, making it the ultimate end to a dream wedding come reality.
#Swarovski #LuxuryWedding #ItalianWedding #VictoriaSwarovski #MichaelCinco