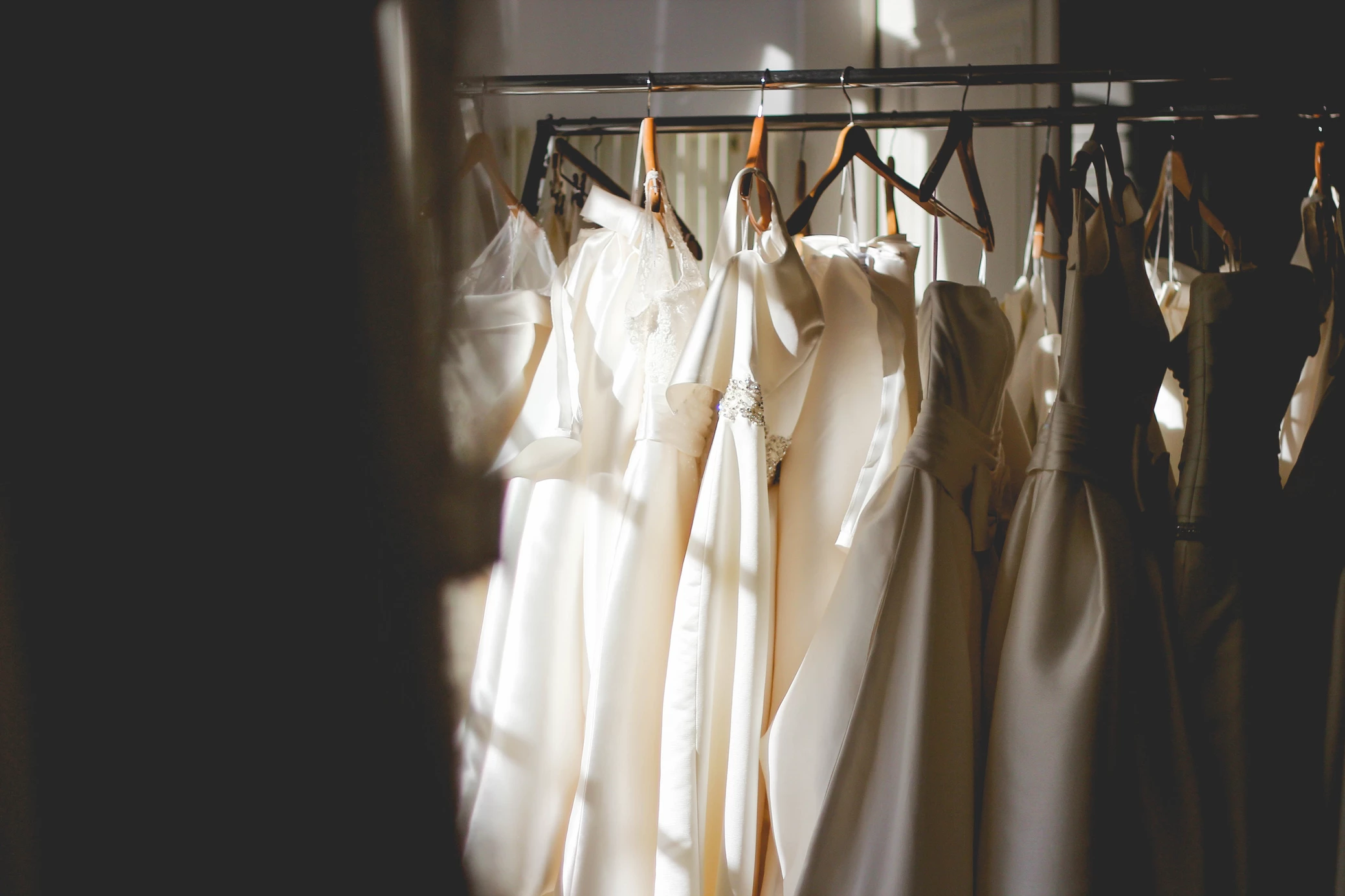 A Guide to Choosing the Perfect Wedding Dress Fabrics for your Wedding Theme
When selecting the perfect wedding dress in Dubai, there's a lot that goes through every bride's mind. The colour, silhouette, design; it's a whole checklist if you ask us, and towards the top of the list comes fabric. Knowing what kind of fabric for wedding dresses you're playing with, how you can differentiate from the multiple arrays of variety available and most importantly, whether your wedding dress fabric matches your theme are common concerns worth pondering upon.
To help all you future brides out there, we are your guide to wedding dress fabrics done right. From silk and velvet to dupioni and organza, choosing the perfect fabric for your wedding theme has never been easier. We're covering themes galore and their seamless fabric pairings and silhouette combinations that will ensure every Dubai bride is nothing short of perfect on their big day. After all, there should be no compromise whatsoever on making your dream wedding a reality.
Vintage Wedding
Opting to go old school with your wedding theme? If yes, make sure your regal wedding dress follows the theme in all its glory. Great options to look forward to, including tea-length gowns with V-necklines. To accentuate those curves the right way, opt for A-line silhouettes.
Vintage lace – Nothing speaks vintage better than wedding dresses adorned with vintage lace. Whether you choose to incorporate it in the gown as a whole or use it as a form of detailing, the choice is all yours.
Tulle – The net-like appearance gives tulle its unique ability to be used as the best fabric underneath ball gowns for a superb finish.
Moire – Moire contains both taffeta and silk, combined seamlessly together. This gives brides the ability to adorn this fabric beautifully into their gowns for a natural-wave like appearance.
Classic Romantic Weddings
Looking for bridal attire that goes elegantly with your romantic theme? How about giving the following fabrics a shot. Don't forget to add that graceful touch of fit and flare into your bridal silhouette.
Tulle – As previously mentioned, this dreamy fabric adds volume to bridal wear like no other. It is this attribute that allows it to go brilliantly with romantic wedding themes
Organza – How about adding a dramatic appeal to your stunning bridal piece with this fabric? Delicate in design and structured in silhouette, guests will adore your romantic gown as it gives a shiny finish and crisp drape like effect.
Seaside Weddings
Picture your dream wedding alongside the stunning shoreline. To complete it all, how about a dreamy wedding dress to blend it all perfectly together. Seaside weddings call for silhouettes with high low hems, short lengths, and soft appeal.
Dotted Swiss – This fabric is breathable and ideal for the seaside. Made from stunning muslin fabric, the dotted motif adds a playful element.
Crepe – Complete your dreamy attire with this silk or rayon fabric we call crepe. The gauzy, sophisticated and crinkled texture gives this fabric the ideal soft appeal.
Georgette – Gowns with a top layer comprising of georgette are what we term stunning for any seaside event. The sheer and lightweight nature of this fabric gives you breezy and soft vibes all evening long.
Rustic Weddings
Rustic themes call for bridal attire that's a little rough around the edges. As far as the silhouette is concerned, strapless and simple designs are the direction you should be heading towards.
Dupioni – Made up of coarse fibers, this fabric blends brilliantly with your rustic themed wedding. The fabric manages to keep a good shape, giving you a fitted appearance all night long. It's slightly rough texture allows brides the ability to be carefree when it comes to wrinkles and creases.
Voile – Voile is a lightweight and breathable fabric made with cotton or wool and is sheer. Its casual look makes it perfect for rustic weddings.
Boho Chic Weddings
Gowns that are A-line in silhouette and adorned using beads are what we call Boho chic. Keep a lookout for flowy fits and bead detailing to complete the Boho appeal.
Batiste – The fabric arises from plain weave, giving it a transparent, soft and airy appeal worth every glance. Liven it up with chunky bead jewelry like earrings and necklaces and you're ready to steal the show.
Floral motifs – Floral motifs add just the right amount of detailing to any Boho themed wedding dress. Whether used on the upper or lower half of the gown, it's an innovative approach to Boho themed weddings.
Eyelet lace – Eyelet lace manages to give gowns a distinct appeal. When you're going Boho chic, what better way of paying homage to the wedding theme than this.
Fairytale Wedding
Carrying out a fantasy-themed wedding means getting a bridal dress that revolves around your dream-wedding concept too. We're talking princess ball gowns; drop waist designs and a mesmerizing big poof.
Duchess satin – Heavy, smooth and oh so fabulous, this fabric is made of silk. Duchess satin will fulfil every fantasy when it comes to fairytale attire.
Beaded embroidered lace – Allow your dreams to come alive as you witness a gown embellished with sheer sophistication using beaded embroidered lace. It's a fantastic detailing that gives oomph to any bridal ceremony.
Forest Wedding
Enchanting forest themes are a treat for both hosts and guests. Playing around that theme with lace bridal dresses can be exciting. A-line gowns with an off shoulder neckline gives brides a unique approach.
Romantic motif lace – Derived from either cotton or silk, this fabric is alluring to say the least. The breathtaking appeal gives it the ability to be used as detailing or an overlay too.
Taffeta – Wedding fabrics like these are what dreams are made of. Its crisp texture yet smooth finishing can help make any bridal dress seem absolutely lovely.
Outdoor Wedding
The main concern with bridal attire and outdoor weddings is getting a fabric that manages to stay in place all night long. Think along the lines of structured A-line attire that is durable.
Chiffon – Considered by many to be the lightest of them all, this seamless wedding gown fabric can be used to give brides an ethereal vibe second to none. Used either as an overlay, layering detail on gowns or simply as a means to accent the gown as a whole, playing with chiffon is a safe bet for seaside brides.
Damask – Damask is very close to brocade, except being a lighter option. The dull jacquard pattern is usually in the same hue as the fabric, giving you endless design opportunities to work your creativity into.
Contemporary and Glam Wedding
Modern day weddings with contemporary feels call for well-tailored fits, something that uses a fabric that symbolizes a minimalistic approach. Capes, pants, and jumpsuits are also great silhouettes to work with.
Charmeuse – The rich, delicate and subtle texture of this fabric is what modern day fashion is all about. The royal sheen on the outside and matte finish on the inside makes it popular for designs such as empire waist styles.
Shantung – A subtle weave with rubbed texture allows this fabric for wedding dresses to hold its shape while providing an elegant drape. It is luxury beyond bounds, to say the least.
Satin – Satin is a heavy and smooth fabric made with silk and nylon fibers that give it a deep sheen. Silk satin is perfect for contemporary wedding dresses as it drapes well and also has the ability to hold tailored structures perfectly.
#VintageWedding #SeasideWedding #ClassicRomanticWedding #RusticWedding #BohoChicWedding #FairytaleWedding #ContemporaryWedding #OutdoorWedding #ForestWedding