Perfection Bridal's Guide to Luxury Wedding
The luxury wedding is a dream of every bride and groom. The motivation behind this aim is to remember your big day for all the right reasons. A wedding ceremony has so many elements starting from flowers, wedding décor to food; every element has a big impact. Thus your wedding day can be made lovable by your guests. It is so achievable by adding small things and making them work together by reliving the dream of every couple.
Ideal Venues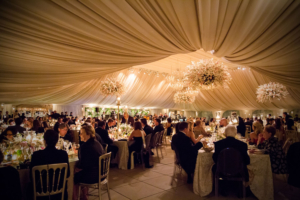 A luxury wedding calls for an exquisite space to enhance sophistication and style. A luxury wedding can be carried out both outdoors and indoors. In Dubai there are plenty of luxurious hotels and resorts to offer their ballrooms and terraces for such a wedding. You can also choose church but it has to be particularly beautiful to match your designer ball gown.
Wedding Dress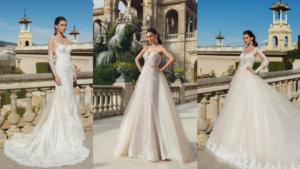 It is the very right of every bride to choose what she wishes to wear on her big day yet if she plans to have a luxury wedding then the large emphasis is placed on wearing ball gown (princess) wedding dresses though the luxury wedding dresses from Dubai can come in other silhouettes. If you wish to craft your dream wedding then all your focus should be on how amazing it makes you feel rather how much money you are spending. A luxurious wedding dress calls for some exquisite accessories to match with like diamond headpiece or jewellery, to make a statement. Hair and makeup must be done from a professional beautician to look best with the bridal dress.
Groom's Outfit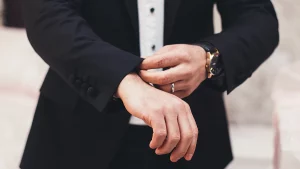 The groom in luxury wedding usually goes with a black tuxedo and a stunning coloured bow-tie. Velvet is the stuff of magnificence, especially when worn in deep colours to complement the luxurious feel. The groom can complement the colour of the bow tie matching with the dress colour of their princess bride. A designer jacket and expensive shoes must be incorporated to groom's fashion.
Luxury Décor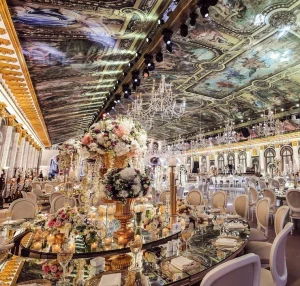 Décor in luxury weddings is solely dependent on the theme of the big day. If you have chosen floral luxury theme then it calls for large arrangement coupled with beautiful detailing. Large chandeliers and expensive center pieces is another element to add to a pure luxurious wedding ceremony.
Guest Outfit Ideas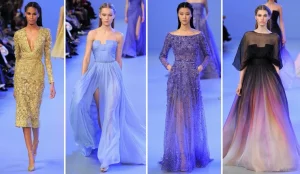 Luxury weddings mean a large wedding party that has guests wearing rich colours and designer silhouettes to support a cohesive and sophisticated party look. The goal is to look elegant in the most flattering colour and silhouette.